Ikigai Red Necklace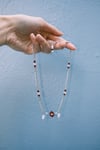 The design was inspired by amulet necklaces and beaded Asian jewelry. While the beads have a sense of dainty-ness, the chain adds a modern "edgy" element to bring balance to an otherwise simplistic design. These pieces were created to be very versatile and can be worn as a statement piece or become a staple in your every day! <3
MADE WITH:
Red glass
Pearl & crystal beads
Stainless steel chain, clasp, wire, and beads.
16" only
All pieces are unique due to them being handmade. Some findings may vary depending on where they are sourced. Quality is our priority!
ABOUT THE COLLECTION:
This collection was inspired by the Japanese concept of Ikigai which stands for "a reason for being." It is a word that depicts your sense of purpose, encompassing your vocational and personal values where achieving fulfilment is motivated by your inner self.
"I chose this name because the year 2020 was a time of self reflection for a lot of us. I want these pieces to remind the wearer to live out their Ikigai."
- Leean, creator of Club Chazu
Share